Sebelum 1940
Selepas 1940
Sejarah Perisian
Ringkasan


Richard Stallman
Donald Knuth
Steve Paul Jobs
Samuel Morse
Jerry Yang
Bill Gates


Tokoh

Richard Stallman merupakan salah satu tokoh komputer modern. Dia merupakan pelopor dari Free Software Foundation (FSF) yang menghasilkan software GNU. Dia juga yang membuat editor emacs. Richard Matthew Stallman lahir di New York pada tahun 1953 sebagai seorang anak tunggal. Dia sangat menggemari matematik sehingga kadang-kadang dia mengatakan bahawa nama tengahnya adalah "math you" (bunyi sama seperti matthew). Stallman kemudian pergi kuliah di Hardvard di tahun 1970. Pada suatu saat (1971?) dia mengunjungi Artificial Intelligence (AI) lab di MIT dan kemudian diberi pekerjaan sementara (summer job). Setelah itu dia kemudian tetap berkerja di MIT AI Lab, yang sering disebut sebagai kandang hackers (pada masa itu). Perlu diingat bahwa yang dimaksud hacker di sini bukan orang yang senang merosakkan komputer miliki orang lain akan tetapi orang yang senang ngoprek komputer.
Richard mengembangkan editor Emacs di MIT AI lab. Emacs sebenarnya merupakan singkatan dari "Editing MACroS", tapi sempat diplesetkan menjadi "eight megabytes and continuously swapping" kerana ukurannya yang sangat besar (menurut standard waktu itu) sehingga komputer yang digunakan sering swapping. Emacs sendiri pada akhirnya tidak sekadar editor teks biasa akan tetapi sudah menyerupai sebuah operating system sendiri (kerana kita biasa melakukan apa saja dalam emacs: baca email, edit file, hapus file, file transfer, dan seterusnya).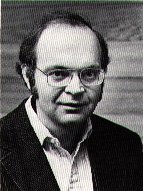 Donald Knuth merupakan salah satu orang penting di dunia "computer science". Hasil karyanya antara lain adalah satu seri buku yang diberi nama "The Art of Computer Programming". Sementara itu dia juga membuat revolusi di dunia typografi dengan karyanya seperti METAFONT dan TeX.
Knuth menerima penghargaan A. M. Turing Award of the ACM pada tahun 1974. Lecture award yang diberikannya berjudul, "Computer Programming as an Art".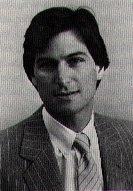 Steve Jobs merupakan pendiri Apple Computer, NeXT, dan Pixar. Dia merupakan salah satu tokoh berkembangnya industri personal computer, dan pemain utama di Silicon Valley, dengan mendirikan Apple. Tokoh revolusi PC. Visionary. Dan berbagai titel lain dipegang oleh Steve Jobs. Namun, dia juga dikenal dengan sifatnya (kelakuannya) yang menuntut terlalu banyak, arogan, perfectionist, dan eksentrik.
Steve Jobs mendirikan Apple di tahun 1976 bersama dengan Steve Wozniak. Dalam perseteruan yang cukup ramai antara Steve Jobs dan CEO kala itu, board of directors memilih untuk menendang Jobs. Steve Jobs kembali ke Apple di tahun 1997 ketika Apple membeli NeXT software.
Informasi online
Samuel Morse merupakan penemu kode morse (morse code) yang sering digunakan untuk komunikasi jarak jauh. Biasanya kode morse ini digunakan untuk Pramuka atau Radio Amatir.
Pesan pertama yang dikirim dengan menggunakan kode morse adalah "What hath God Wrought?". Pesan pertama ini dikirimkan oleh Samuel Morse pada tanggal 24 Mei 1844 ke Baltimore yang jaraknya sekitar 37 mil dari tempat Morse berada. Paten dari penemuannya ini kemudian diberikan ke Magnetic Telegraph Company.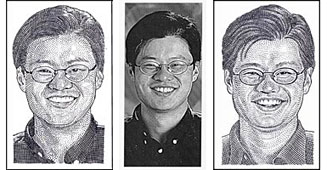 One cannot always predict when and if a hedcut will run. In the case of Jerry Yang, co-founder of the Internet browser Yahoo!, with David Filo, two hedcuts-created from the same source photograph-have yet to run in the Wall Street Journal. But the drawings provide a valuable opportunity to compare the hands of two different hedcut artists. Jerry grew up in San Jose and went to Stanford for his bachelors. We're both in Stanford's Electrical Engineering program doing electronic computer-aided design research.

Born in Taiwan in 1968 with the name Yang Chih-Yuan, Yang immigrated to the United States with his family at the age of ten and changed his name to Jerry Yang. He learned English in the United States and completed his B.A. and M.A. in electrical engineering at Stanford University. However, his Ph.D. was interrupted by his exploration of the Internet with friend David Filo. What started as a list of favorite sites spawned the development of the Internet's most popular browser, making multimillionaires of its developers.
JERRY YANG AND YAHOO
Over the years, the internet has grown into a superpower that has become a part of many people's everyday lives. Technological advancements and new ideas have made computers and the internet take control of modern day society. The internet has provided new jobs and made many people rich. Jerry Yang is an example of a person who put his mind to work and came out ahead.
College: Jerry was accepted into Stanford University and completed his Bachelor's and Master's degree in electrical engineering. Jerry went on to study for his doctorate until meeting David Filo in 1994.
David Filo and Jerry Yang: Jerry and David met at college and found a common hobby between them. In April of 1994, Jerry and David began indexing their favorite places to go on the web. The two men customized their own database and set site.
Naming the Site:
Jerry's Guide to the World Wide Web

Jerry and David's Guide to the World Wide Web

After much thought, YAHOO was the one.
The History of Yahoo! - How It All Started...
Yahoo! began as a student hobby and evolved into a global brand that has changed the way people communicate with each other, find and access information and purchase things. The two founders of Yahoo!, David Filo and Jerry Yang, Ph.D. candidates in Electrical Engineering at Stanford University, started their guide in a campus trailer in February 1994 as a way to keep track of their personal interests on the Internet. Before long they were spending more time on their home-brewed lists of favorite links than on their doctoral dissertations. Eventually, Jerry and David's lists became too long and unwieldy, and they broke them out into categories. When the categories became too full, they developed subcategories ... and the core concept behind Yahoo! was born.
The Web site started out as "Jerry's Guide to the World Wide Web" but eventually received a new moniker with the help of a dictionary. The name Yahoo! is an acronym for "Yet Another Hierarchical Officious Oracle," but Filo and Yang insist they selected the name because they liked the general definition of a yahoo: "rude, unsophisticated, uncouth." Yahoo! itself first resided on Yang's student workstation, "Akebono," while the software was lodged on Filo's computer, "Konishiki" - both named after legendary sumo wrestlers.
Jerry and David soon found they were not alone in wanting a single place to find useful Web sites. Before long, hundreds of people were accessing their guide from well beyond the Stanford trailer. Word spread from friends to what quickly became a significant, loyal audience throughout the closely-knit Internet community. Yahoo! celebrated its first million-hit day in the fall of 1994, translating to almost 100 thousand unique visitors.
Due to the torrent of traffic and enthusiastic reception Yahoo! was receiving, the founders knew they had a potential business on their hands. In March 1995, the pair incorporated the business and met with dozens of Silicon Valley venture capitalists. They eventually came across Sequoia Capital, the well-regarded firm whose most successful investments included Apple Computer, Atari, Oracle and Cisco Systems. They agreed to fund Yahoo! in April 1995 with an initial investment of nearly $2 million.
Realizing their new company had the potential to grow quickly, Jerry and David began to shop for a management team. They hired Tim Koogle, a veteran of Motorola and an alumnus of the Stanford engineering department, as chief executive officer and Jeffrey Mallett, founder of Novell's WordPerfect consumer division, as chief operating officer. They secured a second round of funding in Fall 1995 from investors Reuters Ltd. and Softbank. Yahoo! launched a highly-successful IPO in April 1996 with a total of 49 employees.
Today, Yahoo! Inc. is a leading global Internet communications, commerce and media company that offers a comprehensive branded network of services to more than 237 million individuals each month worldwide. As the first online navigational guide to the Web, www.yahoo.com is the leading guide in terms of traffic, advertising, household and business user reach. Yahoo! is the No. 1 Internet brand globally and reaches the largest audience worldwide. The company also provides online business and enterprise services designed to enhance the productivity and Web presence of Yahoo!'s clients. These services include Corporate Yahoo!, a popular customized enterprise portal solution; audio and video streaming; store hosting and management; and Web site tools and services. The company's global Web network includes 25 World properties. Headquartered in Sunnyvale, Calif., Yahoo! has offices in Europe, Asia, Latin America, Australia, Canada and the United States.

William H. Gates
Chairman and Chief Software Architect
Microsoft Corporation
William (Bill) H. Gates is chairman and chief software architect of Microsoft Corporation, the worldwide leader in software, services and Internet technologies for personal and business computing. Microsoft had revenues of US$32.19 billion for the fiscal year ending June 2002, and employs more than 50,000 people in 72 countries and regions.
Born on Oct. 28, 1955, Gates grew up in Seattle with his two sisters. Their father, William H. Gates II, is a Seattle attorney. Their late mother, Mary Gates, was a schoolteacher, University of Washington regent, and chairwoman of United Way International.
Gates attended public elementary school and the private Lakeside School. There, he discovered his interest in software and began programming computers at age 13.
In 1973, Gates entered Harvard University as a freshman, where he lived down the hall from Steve Ballmer, now Microsoft's chief executive officer. While at Harvard, Gates developed a version of the programming language BASIC for the first microcomputer - the MITS Altair.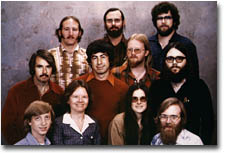 Top row: Steve Wood (left), Bob Wallace, Jim Lane. Middle row: Bob O'Rear, Bob Greenberg, Marc McDonald, Gordon Letwin. Bottom row: Bill Gates, Andrea Lewis, Marla Wood, Paul Allen. December 7, 1978.
In his junior year, Gates left Harvard to devote his energies to Microsoft, a company he had begun in 1975 with his childhood friend Paul Allen. Guided by a belief that the computer would be a valuable tool on every office desktop and in every home, they began developing software for personal computers. Gates' foresight and his vision for personal computing have been central to the success of Microsoft and the software industry.
Under Gates' leadership, Microsoft's mission has been to continually advance and improve software technology, and to make it easier, more cost-effective and more enjoyable for people to use computers. The company is committed to a long-term view, reflected in its investment of more than $4 billion on research and development in the current fiscal year.
In 1999, Gates wrote Business @ the Speed of Thought, a book that shows how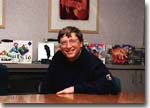 computer technology can solve business problems in fundamentally new ways. The book was published in 25 languages and is available in more than 60 countries. Business @ the Speed of Thought has received wide critical acclaim, and was listed on the best-seller lists of the New York Times, USA Today, the Wall Street Journal and Amazon.com. Gates' previous book, The Road Ahead, published in 1995, held the No. 1 spot on the New York Times' bestseller list for seven weeks.
Gates has donated the proceeds of both books to non-profit organizations that support the use of technology in education and skills development.
In addition to his love of computers and software, Gates is interested in biotechnology. He sits on the board of ICOS, a company that specializes in protein-based and small-molecule therapeutics, and he is an investor in a number of other biotechnology companies. Gates also founded Corbis, which is developing one of the world's largest resources of visual information - a comprehensive digital archive of art and photography from public and private collections around the globe. In addition, Gates has invested with cellular telephone pioneer Craig McCaw in Teledesic, which is working on an ambitious plan to employ hundreds of low-orbit satellites to provide a worldwide two-way broadband telecommunications service.
Philanthropy is also important to Gates. He and his wife, Melinda, have endowed a foundation with more than $24 billion to support philanthropic initiatives in the areas of global health and learning, with the hope that as we move into the 21st century, advances in these critical areas will be available for all people. To date, the Bill and Melinda Gates Foundation has committed more than $2.5 billion to organizations working in global health; more than $1.4 billion to improve learning opportunities, including the Gates Library Initiative to bring computers, Internet Access and training to public libraries in low-income communities in the United States and Canada; more than $260 million to community projects in the Pacific Northwest; and more than $381 million to special projects and annual giving campaigns.
Gates was married on Jan. 1, 1994, to Melinda French Gates. They have three children. Gates is an avid reader, and enjoys playing golf and bridge.

© Copyrights 2004